Psychogenic orofacial pain: literature review, development of a diagnostic questionnaire and three cases report.
Palavras-chave:
Headache Psychogenic Pain Depression Questionnaire
Resumo
Objectives: Review the literature on psychogenic face or head pain, develop a diagnostic questionnaire for psychogenic head and face pain and present three clinical cases presenting psychogenic pain. Material and Methods: Review of 18 papers on psychogenic pain to develop a diagnostic questionnaire with questions to be answered by patients  that presented these three clinical cases. Results: The common things observed in three patients presenting psychogenic pain were  higher scores  in bruxing behavior, depression, somatization, severe pain and the presence of psychic conflict. Conclusions: Various types of other face and headaches occur in subjects with psychogenic face and head pain. Psychogenic pain individuals usually present severe pain associated with depression. Psychic conflict, somatization and depression are usually associated with psychogenic pain.
Downloads
Não há dados estatísticos.
Referências
Hunter, S. The management of psychogenic orofacial pain. British Medical Journal,v.304, p.330-331, 1992.
Bridges,P.K. Psychological aspects of headache. Postgraduate Medical Journal, v.47, p.556-561, 1971.
Lo, W.H. Psychogenic regional pain. The Bulletin of the Hong Kong Medical Association, v.20, p.63-68, 1968.
Benbadi, S.R. Association between chronic pain or fibromyalgia and psychogenic seizures. AJPM, v.15, p.117-119, 2005.
Ruden, R.A. A neurological basis for the observed peripheral modulation of emotional responses. Traumatology, v.11, p.145-158, 2005.
Weatherhead, A.D. Headache associated with psychiatric disorders: Classification and etiology. Psychosomatics, v.21, p.832-840, 1980.
Abdul Rahman, Z.A. The etiology and management of chronic idiopathic facial pain: A review. Annals of Dentistry, University of Malaya, v.5, p.40-44, 1998.
Engel, G.L. Psychogenic pain and the pain-prone patient. American Journal of Medicine, v.June, p.899-918, 1959.
Lim, L.E. Psychogenic pain, Singapore Medical Journal, v.35, p.519-0522, 1994.
Adler R, H.; Zlot, S.; Hürny, C.; Minder, C. Engel´s psychogenic pain and the pain-prone patient: A retrospective, controlled clinical study. Psychosomatic Medicine,
Violon, A. The onset of facial pain. Psychotherapy and Psychosomatics, v.34, p.11-16, 1980.
Durhan, J.; Exley, C.; Wassell, R.; Steele, G.J. Management is a black art. Professional ideologies with respect to temporomandibular disorders. British Dental Journal, v.202, p.E29, 2007.
Pfaffenrath, V.; Rath, M.; Pollman, W.; Kieser, J.M. Atypical facial pain: Application of the HIS criteria in a clinical sample. Cephalalgia, v.13, p.84-88, 1993.
Hurwitz, T. Somatization and conversion disorder. Canadian Journal of Psychiatry, v.49, p.172-178, 2004.
Fishbain, P.; Cutler, R.B.; Rosomoff, H.L.; Rosomoff, R. Do antidepressants have an analgesic effect in psychogenic pain and somatoform pain disorders? Psychosomatic Medicine, v.60, p.503-509, 1998.
Ware, J.C.; Rugh, J.D. Destructive bruxism: Sleep stage relationships. Sleep, 1988; 11: 172-181.
Kampe, T.; Edman, G.; Bader, G.; Tagdae, T.; Karlsson, S. Personality traits in a group of subjects with long-standing bruxing behavior. Journal of Oral Rehabilitation, v.24, p.588-593, 1997.
Moulton, R.E. Oral manifestations of anxiety. Psychiatry, v.18, p.261-273, 1955.
Molina, O.F.; Peixoto, M.G.; Santos, Z.C.; Penoni, J.; Aquilino, R.; Peixoto, M. Bruxism as a mechanism subserving hysteria: A new theory. Revista Neurociências, v.16, p.262-268, 2008.
Schwartz, R.A.; Greene, C.S.; Laskin, D.M.; Personality characteristics of patients with myofascial pain-dysfunctions syndrome unresponsive to conventional therapy. Journal Dental Research, v.58, p.1435-1439, 1979.
Bair, M.J.; Robinson, R.L.; Katon, W.; Kroenke, K. Depression and pain co-morbidity. American Medical Association, v.163; p.2433-2445, 2003.
Aggarwal, V.R.; McBeth, J.; Zakrzewska, J.M.; Lunt, M.; Macfarlane, G.J. The epidemiology of chronic syndromes that are frequently unexplained: do they have common associated factors? International Journal Epidemiology, v.35, p.468-476, 2006.
Sarno, J.E. Chronic back pain and psychic conflict. Scandinavian Journal of Rehabilitation Medicine, v.8, p.143-153, 1976.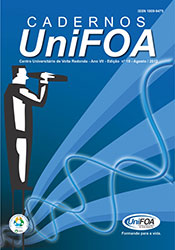 Downloads
Como Citar
MOLINA, O. F.; SANTOS, Z. C.; E SILVA, N. de P.; GAMA, K. R.; MARCHEZAN, R. F.; CURY, S. E.; DIB, J. E. Psychogenic orofacial pain: literature review, development of a diagnostic questionnaire and three cases report. Cadernos UniFOA, Volta Redonda, v. 7, n. 19, p. 81–92, 2017. DOI: 10.47385/cadunifoa.v7.n19.1105. Disponível em: https://revistas.unifoa.edu.br/cadernos/article/view/1105. Acesso em: 2 fev. 2023.
Seção
Ciências Biológicas e da Saúde
Licença
Declaração de Transferência de Direitos Autorais - Cadernos UniFOA como autor(es) do artigo abaixo intitulado, declaro(amos) que em caso de aceitação do artigo por parte da Revista Cadernos UniFOA, concordo(amos) que os direitos autorais e ele referentes se tornarão propriedade exclusiva desta revista, vedada qualquer produção, total ou parcial, em qualquer outra parte ou meio de divulgação, impressa ou eletrônica, sem que a prévia e necessária autorização seja solicitada e, se obtida, farei(emos) constar o agradecimento à Revista Cadernos UniFOA, e os créditos correspondentes. Declaro(emos) também que este artigo é original na sua forma e conteúdo, não tendo sido publicado em outro periódico, completo ou em parte,  e certifico(amos) que não se encontra sob análise em qualquer outro veículo de comunicação científica.
O AUTOR desde já está ciente e de acordo que:
A obra não poderá ser comercializada e sua contribuição não gerará ônus para a FOA/UniFOA;
A obra será disponibilizada em formato digital no sítio eletrônico do UniFOA para pesquisas e downloads de forma gratuita;
Todo o conteúdo é de total responsabilidade dos autores na sua forma e originalidade;
Todas as imagens utilizadas (fotos, ilustrações, vetores e etc.) devem possuir autorização para uso;
Que a obra não se encontra sob a análise em qualquer outro veículo de comunicação científica, caso contrário o Autor deverá justificar a submissão à Editora da FOA, que analisará o pedido, podendo ser autorizado ou não.
O AUTOR está ciente e de acordo que tem por obrigação solicitar a autorização expressa dos coautores da obra/artigo, bem como dos professores orientadores antes da submissão do mesmo, se obrigando inclusive a mencioná-los no corpo da obra, sob pena de responder exclusivamente pelos danos causados.