We should be considering age, comorbidities and health-care system performance to relax Covid-19 related social distancing measures
Palavras-chave:
COVID19. SOCIAL DISTANCING. PANDEMIC
Resumo
Aiming to avoid a health system collapses due to the COVID-19 pandemic; social distancing measures are taken broadly.1 The very high or high-risk population is of specific concern, once expected to have an increase rate of admission.2 Besides criticised, the strategy seems to be working properly and now brings the discussion about when the measures will be relaxed with safety.
Comparisons with other pandemics are not entirely appropriate, but it seems reasonable to look back at the past and consider valuable lessons learned. The direct association between death and age as well as for comorbidities or clinical risk is observed in other viral infections similarly to the current outbreak.3-13 Age is also a known as an independent survival factor. On the other hand, it should be highlighted that young children are the exception once have an immature immune system, main reasons why we generally see a "J-like" curve shape as schematically represented by the Figure 1. Although, age-mortality rate seems to be similar amongst world regions, the poor healthcare and quality index is associate with increase death rate.14
Unfortunately, we were relying on certainties that are fragile for the moment. There is no solid evidence about herd immunity in patients with asymptomatic disease. Moreover, we all expect that the patients that recovered from the infection are hopefully immune or at least have a mild disease in case of re-infection but the knowledge about the immune response and anti-bodies nature is currently imature15, 16. There is also scare evidence about mass use disposable barrier methods, such as face masks or gloves, will diminish the viral transmission.17 Although community use of personal protection equipment might give a sensation of safety in some cultures, the misuse or re-use could be dangerous and there is no evidence assuring the benefit provided by community manufactured masks.18,19
Therefore, once the evidence is being gathered and a vaccine, probably the most reliable scientific based way out of this crisis, will take at least some months to be available, we should consider relax social distancing measures based on age adjusted by comorbidities as a first step whilst continuing with hand washing associated with high standards of self-hygiene when possible.
Downloads
Não há dados estatísticos.
Referências
Lewnard, Joseph A., and Nathan C. Lo. "Scientific and ethical basis for social-distancing interventions against COVID-19." The Lancet. Infectious diseases (2020).
nhs.uk. 2020. Who's At Higher Risk From Coronavirus - Coronavirus (COVID-19). [online] Available at: <https://www.nhs.uk/conditions/coronavirus-covid-19/people-at-higher-risk-from-coronavirus/whos-at-higherrisk-from-coronavirus/> [Accessed 4 May 2020].
Ramiro, Diego, et al. "Age-specific excess mortality patterns and transmissibility during the 1889–1890 influenza pandemic in Madrid, Spain." Annals of epidemiology 28.5 (2018): 267-272.
Cilek, Laura, Gerardo Chowell, and Diego Ramiro Fariñas. "Age-specific excess mortality patterns during the 1918–1920 influenza pandemic in Madrid, Spain." American journal of epidemiology 187.12 (2018): 2511-2523.
Viboud, Cécile, et al. "Global mortality impact of the 1957–1959 influenza pandemic." The Journal of infectious diseases213.5 (2016): 738-745.
Ma, Junling, Jonathan Dushoff, and David JD Earn. "Age-specific mortality risk from pandemic influenza." Journal of theoretical biology 288 (2011): 29-34.
Donaldson, Liam J., et al. "Mortality from pandemic A/H1N1 2009 influenza in England: public health surveillance study." Bmj 339 (2009): b5213.
Chan‐Yeung, Moira, and Rui‐Heng Xu. "SARS: epidemiology." Respirology 8 (2003): S9-S14.
Verity, Robert, et al. "Estimates of the severity of coronavirus disease 2019: a model-based analysis." The Lancet Infectious Diseases (2020).
Glynn, Judith R. "Protecting workers aged 60–69 years from COVID-19." The Lancet Infectious Diseases (2020).
Onder, Graziano, Giovanni Rezza, and Silvio Brusaferro. "Case-fatality rate and characteristics of patients dying in relation to COVID-19 in Italy." Jama (2020).
www1.nyc.gov. 2020. COVID-19: Data - NYC Health. [online] Available at:
<https://www1.nyc.gov/site/doh/covid/covid-19-data.page> [Accessed 4 May 2020].
Cromer, Deborah, et al. "The burden of influenza in England by age and clinical risk group: a statistical analysis to inform vaccine policy." Journal of Infection 68.4 (2014): 363-371.
Global - Paget, John, et al. "Global mortality associated with seasonal influenza epidemics: New burden estimates and predictors from the GLaMOR Project." Journal of global health 9.2 (2019).
Wu, Fan, et al. "Neutralizing antibody responses to SARS-CoV-2 in a COVID-19 recovered patient cohort and their implications." (2020).
Altmann, Daniel M., Daniel C. Douek, and Rosemary J. Boyton. "What policy makers need to know about COVID-19 protective immunity." The Lancet (2020).
Cheng, Kar Keung, Tai Hing Lam, and Chi Chiu Leung. "Wearing face masks in the community during the COVID-19 pandemic: altruism and solidarity." The Lancet (2020).
Leung, Chi Chiu, Tai Hing Lam, and Kar Keung Cheng. "Mass masking in the COVID-19 epidemic: people need guidance." Lancet 395.10228 (2020): 945.
Liu, Xiaopeng; Zhang, Sisen. COVID-19: face masks and human-to-human transmission. Influenza And Other Respiratory Viruses, [s.l.], p. 1-2, 5 abr. 2020. Wiley. http://dx.doi.org/10.1111/irv.12740.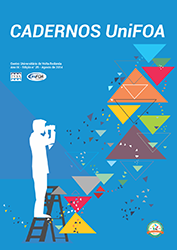 Downloads
Licença
Copyright (c) 2020 Cadernos UniFOA
Este trabalho está licenciado sob uma licença Creative Commons Attribution-NonCommercial-ShareAlike 4.0 International License.
Declaração de Transferência de Direitos Autorais - Cadernos UniFOA como autor(es) do artigo abaixo intitulado, declaro(amos) que em caso de aceitação do artigo por parte da Revista Cadernos UniFOA, concordo(amos) que os direitos autorais e ele referentes se tornarão propriedade exclusiva desta revista, vedada qualquer produção, total ou parcial, em qualquer outra parte ou meio de divulgação, impressa ou eletrônica, sem que a prévia e necessária autorização seja solicitada e, se obtida, farei(emos) constar o agradecimento à Revista Cadernos UniFOA, e os créditos correspondentes. Declaro(emos) também que este artigo é original na sua forma e conteúdo, não tendo sido publicado em outro periódico, completo ou em parte,  e certifico(amos) que não se encontra sob análise em qualquer outro veículo de comunicação científica.
O AUTOR desde já está ciente e de acordo que:
A obra não poderá ser comercializada e sua contribuição não gerará ônus para a FOA/UniFOA;
A obra será disponibilizada em formato digital no sítio eletrônico do UniFOA para pesquisas e downloads de forma gratuita;
Todo o conteúdo é de total responsabilidade dos autores na sua forma e originalidade;
Todas as imagens utilizadas (fotos, ilustrações, vetores e etc.) devem possuir autorização para uso;
Que a obra não se encontra sob a análise em qualquer outro veículo de comunicação científica, caso contrário o Autor deverá justificar a submissão à Editora da FOA, que analisará o pedido, podendo ser autorizado ou não.
O AUTOR está ciente e de acordo que tem por obrigação solicitar a autorização expressa dos coautores da obra/artigo, bem como dos professores orientadores antes da submissão do mesmo, se obrigando inclusive a mencioná-los no corpo da obra, sob pena de responder exclusivamente pelos danos causados.